Have you always dreamed of having music in every room?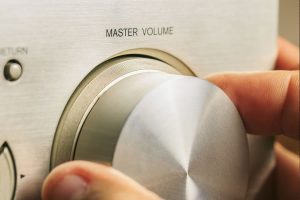 Music servers enable you to store your entire music collection centrally while being able to listen to the library in various rooms at the same time. Using a touch panel, a keypad or a remote control handset, our audio/video distribution systems use a central processor to operate from anywhere you like.
Whether you need a simple audio-only system to enjoy your CDs, iPod, and satellite radio in multiple rooms or want to dazzle your friends with an A/V setup through which you can watch TV controlled by an in-wall touch panel in the bathroom, we can create a system that suits your needs. To complete the effect why not consider flush-mounted speakers that discreetly mount into ceilings and walls. There are now more and more loudspeakers of this design on the market which create a full-bodied sound.
More zones can be added as the need arises, and it is not just interiors that can benefit from such a system. There is now a wide range of outdoor speakers that are great for pool parties and barbeques alike.
Complete home control solutions for modern living
With Fusion Systems, you can start with just one room or automate your entire home all at once. Integrating different subsystems such as lighting, heating, ventilation and air conditioning, audio/video, security, telephone and data can make your home more functional and easier to use.
Our homes can now be controlled by various types of touch panels, via the web or smartphone apps, allowing for simple interfaces to be tailored to the user's needs – in some cases using a single button. Portability is also a consideration: some touch panels can sit on your table like a small computer monitor, while others can pop out of a freestanding or in-wall docking cradle for use throughout the property.
Imagine starting a DVD movie at the touch of a button: automatically drawing the curtains, dimming the lights, dropping the projector screen, turning on the TV and DVD player, while activating the surround sound system as the disc starts to play.
Fusion Systems is an authorised dealer of Control4® home automation systems. There are many different control systems on the market with varying degrees of control at widely varying costs. Over our many years' experience working with home automation, we have found Control4® to provide the control of some more expensive systems at a fraction of the cost, while being easily scalable so your system can grow over time. To find out more, visit the Control4® website or contact us to find out how a Fusion Systems home automation system could improve your lifestyle.
Films, sports, or games on your own high-quality home cinema
Our bespoke systems are designed to your specific requirements. We liaise with you on all aspects of the design to create the perfect aesthetic. Whether it is a dedicated area or a multi-purpose room with concealed speakers and hidden equipment, we can help you make the most of your space.
Flatscreen or projector?
A home cinema can be based on a flatscreen TV or a projector screen. A projector-based cinema is normally the most cost-effective option once screen sizes start to exceed 65″ (measured diagonally), is easier to hide in a ceiling, and can provide as large an image as the dimensions of the room will allow. The quality of home cinema projectors is constantly improving and many can now produce very high-quality images.
On the other hand, where projectors require near darkness to work at full effect, a flatscreen can provide a good solution if this is not possible in a given space. Flatscreens are available in sizes of up to 103″ if required, while one-room lighting solutions can be installed to give you a complete cinema experience.
Fusion Systems' home cinema installations cover full planning and management, as well as design and installation from start to finish. Watch all your movies again with family and friends as you have never seen them before!
View your favourite programmes in any room or even outdoors
Our stable IP networks integrate technologies such as multiroom audio and the distribution of high definition, digital video signals to every flat screen location. IPTV, also known as video-on-demand, is available as an upgrade if you have sufficient internet bandwidth. Other home automation can also be attached to the network such as blind or curtain control, underfloor heating, or climate or lighting control, often through the same user-friendly control panels. By placing most of the network components centrally, this can reduce the need for duplicate equipment boxes in individual rooms.
TV installation
Fusion Systems' technicians can install televisions, monitors, projectors, and video touch panels in any configuration or on any mounting surface safely and securely using: flat mounts, ceiling mounts, articulating mounts, rail mounts, or motorised mounts. We also sell and install a wide selection of displays and cabling. For more information, see the home cinema section.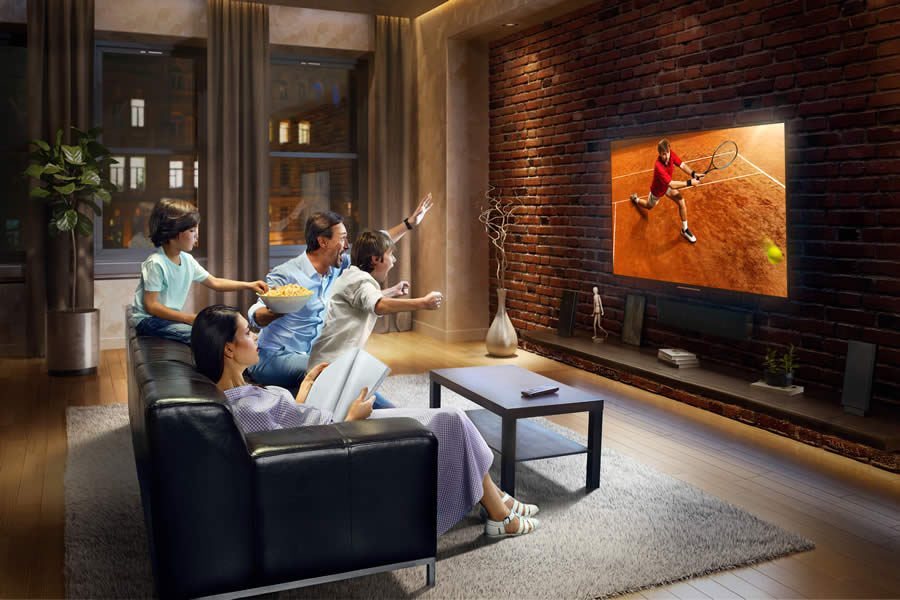 Save money, improve security, and set the mood with one touch
Getting lighting 'just right' can take a lot of work. It plays a large part in how a home looks and feels, and is important in the process of developing a smart home control system. We can help you in the design and decision-making process with demonstrations, or we can work directly with interior designers or architects.
Fusion Systems' lighting control systems have many benefits. For example an area's appearance or mood can change instantly at the touch of a button by simply fading or dimming-down lights, while additional, subtle effects can be achieved using colour-changing functions, a feature popular in gardens and pool areas. Some additional benefits are outlined below; for the latest technologies, contact us for a free consultation.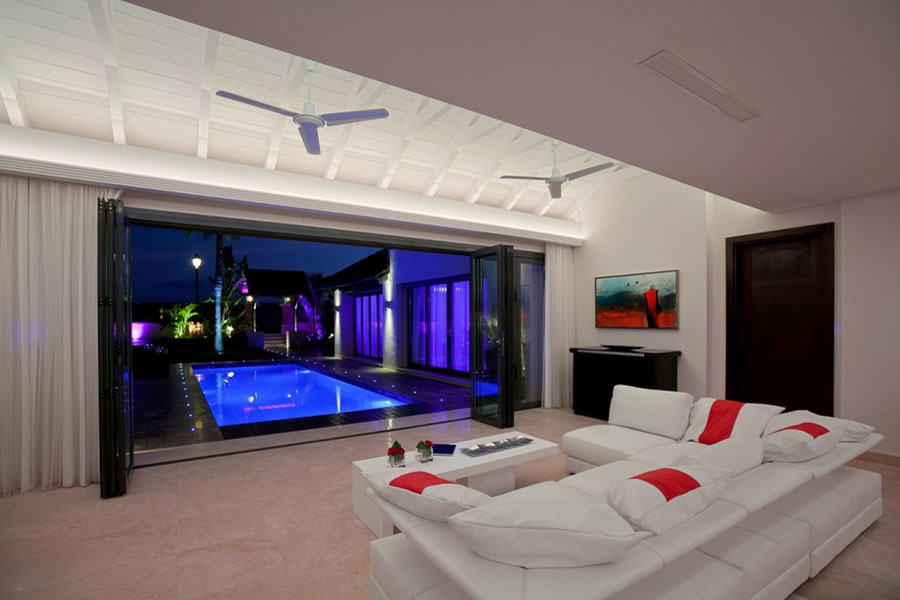 By linking zones, multiple lights can be faded or dimmed-down instantly with one touch pre-sets. For example: a 'welcome home' setting can illuminate key areas upon entering your home at the touch of a button; a motion sensor can pick up movement to activate a light path in certain areas of the property, or; an 'exit' macro could turn off all lights in the house upon leaving, while leaving outdoor and selected interior lights on if required.
Thanks to low-level illumination during certain times — triggered via a keypad or motion sensor — getting up in the night needs not mean waking the whole house. Motion sensors can trigger lights for a predetermined time, while light sensors can trigger lights once the sun has set.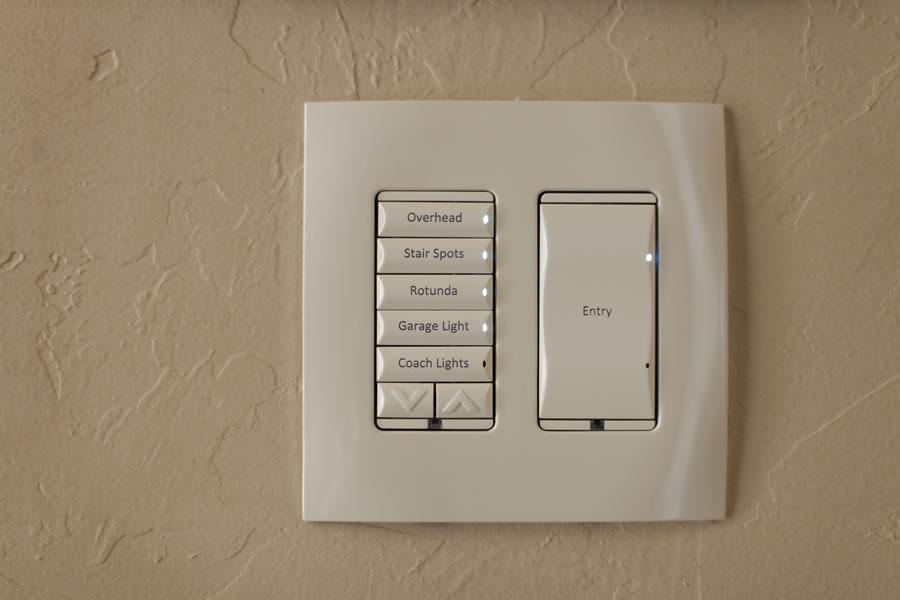 Security
In the event of a disturbance during the night, an 'all on' button can be created to illuminate the entire house at the touch of a button, deterring any unwanted visitors and allowing for inspection.
Our systems can also be set to 'record mode' to register lighting actions over a period of time. Later, the system can then be set to 'holiday mode' for the recorded actions to play back, giving a realistic illusion of a random, natural presence in the property while you're away.
Trusted Brands
We aim to supply the best quality products for the best value.
Get in touch for consultation, support, quotes and information.